Today, our world lost one of the most wonderful souls: Maya Angelou gave up her ghost quietly in her North Carolina home this morning.
Not only was she an accomplished writer, Maya Angelou wore several hats during her 86 years on Earth. Known for her poetry, she was also a  civil rights activist, dancer, film producer, television producer, playwright, film director, author, actress, professor (Wikipedia). She published seven autobiographies and was an accomplished poet, in addition to earning several awards and honorary degrees between 1970 and today.
When I say "writing is therapy," I can't help but think of Maya Angelou and how she started writing. If you are unfamiliar with her history… she experienced something so traumatic during her early years that prompted her to become mute. Her strength came out in words, giving hope to so many others around the globe.
At age 7, Angelou was raped by her mother's boyfriend, who was later beaten to death in an assault that some believed was carried out by Angelou's uncles. The trauma of the rape and her assailant's death left Angelou mute for six years.
She began writing during that silent period. She would chronicle the first 17 years of her life in the 1969 autobiography "I Know Why the Caged Bird Sings," which her friend, writer James Baldwin, had encouraged her to write.
The book, which covers the racism Angelou had faced in the 1930s and '40s and her fantasies of being blond and white, is considered an American classic. (Reuters)
Patrik Henry Bass, an editor at Essence Magazine, says "when we think of her, we often think about her books, of course, and her poems… but in the African-American community, certainly, we heard so much of her work recited, so I think about her voice. You would hear that voice, and that voice would capture a humanity, and that voice would calm you in so many ways through some of the most significant challenges." (NPR)
Oprah Winfrey, who considered Angelou to be not just her mentor but also a very dear friend, will always remember how she lived her life: "She moved through the world with unshakable calm, confidence, and a fierce grace." 
Harold Augenbraum, the Executive Director of the National Book Foundation, stated "we share the gratitude of so many for Dr. Angelou's contributions to literature, human rights, and social justice. Her legacy is one that all writers and readers across the world can admire and aspire to."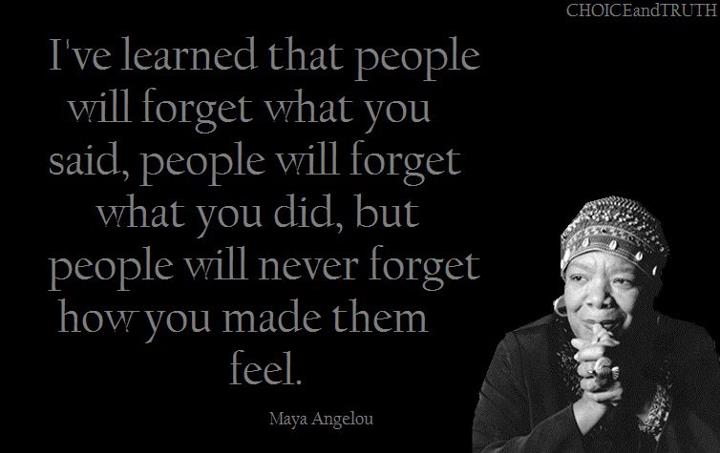 (Source)
My favorite Angelou poems will always be Caged Bird and On the Pulse of Morning, which was made famous when she wrote and recited the poem for President Bill Clinton's inauguration in 1993. Give these a read/listen. Hear her voice shine through her words. Share your thoughts in the comments section, if you'd like.
Her work and words are forever etched in our history and she will not be forgotten, but remembered and celebrated for generations to come.