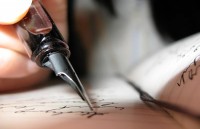 For Writer Wednesday, I wanted to share a poem I wrote a while back with you. As always, feedback is encouraged!
Make Yourself
Make yourself – no one else can. Run away
if you must, with intentions to move
forward, never looking back. Let your dreams
be snatched away. Kiss love goodbye
by not abandoning future endeavors down a
heart-bursting path. Compose your life
in a single line, only to live by those words.
Know it is okay to disappear.